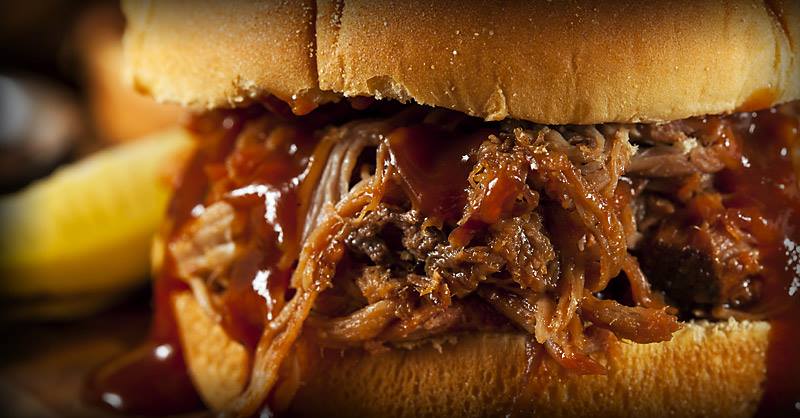 (Yields 6 to 8 sandwiches)
Ingredients:
1 pkg Tony Roma's Pulled Pork
6-8 slices texas toast (any variety)
2 cups macaroni
Quick Cheese Sauce *recipe follows
Quick mac-n-cheese sauce:
4 Tablespoons Butter (unsalted)
4 Tablespoons Flour
2 cups Milk
1 teaspoon Salt
Black pepper to taste
1 to 2 dashes of hot sauce (optional)
16 oz Velveeta cheese (cubed)
1 cup fresh grated cheddar cheese
To make the mac-n-cheese, bring 4 to 6 cups of water to a boil. Add 2 cups macaroni and then simmer on medium-high heat until al dente (a little less than fully cooked). Drain pasta and immediately rinse with cold water and set side.
Pour milk into small saucepot on medium high, when milk starts to boil or becomes frothy turn heat down to low.
In the same pot used for the macaroni, melt butter and add flour on medium heat. Cook and whisk until mixture looks like a paste and is light tan in color. Slowly pour warm milk into pot while whisking, and continue until fully incorporated. Add Salt simmer and stir occasionally for another 15 minutes so flour can fully cook out.  Add cubed Velveeta and Cheddar Cheeses, stirring continuously until cheeses have melted and have fully incorporated.  Add pepper to taste and remove from heat. Mix in cooked macaroni.
Sandwich Build:
Preheat griddle to 325 degrees. Butter both sides of Texas Toast, place bread on griddle browning for 2 to 3 minutes and flip. Top toasted side with a 1/2 cup warm pulled pork, followed by 1Ž2 cup of prepared mac-n-cheese.
If you'd like, add some chopped bacon to really WOW your guests. (This is a great step for the kids!)
Serve with pickle chips or cole slaw.