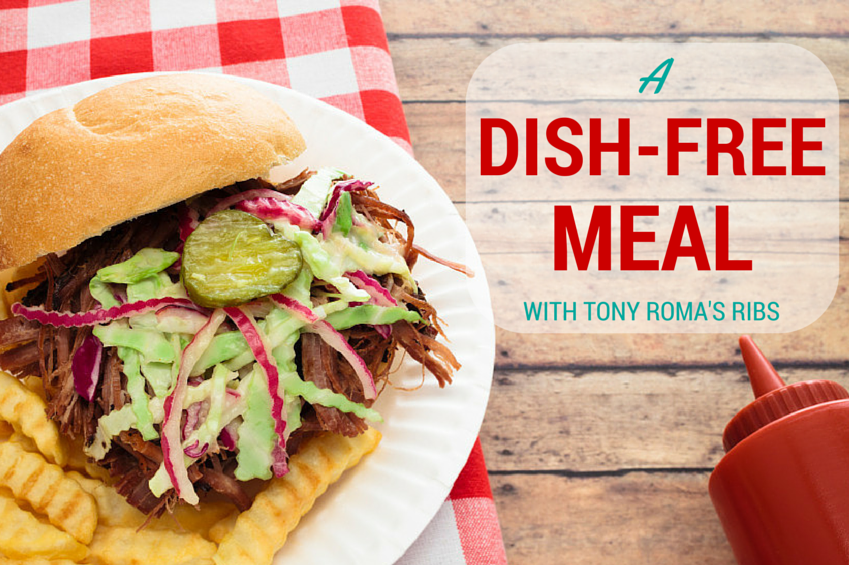 You already know how to use Tony Roma's Ribs for a convenient and easy-to-prepare meal, but do you know how to prepare an entire meal without dirtying a dish? It's easy to do, if you know the right tricks! We at Tony Roma's Ribs know it's a drag to do dishes, so we've compiled this handy guide to a dish-free meal!
How do you pull off a dish-free meal? For one thing, you'll want to plan on cooking your entire meal on the grill. Once that's the plan, here are some pointers:
Use disposable dinnerware. Let's get this out of the way first thing! Obviously, if you're not going to wash the dishes, you'll have to be able to throw them away after dinner.
Let someone else do the heavy lifting of prepping the barbecue. You can skip all the prep work and still get that succulent, fresh-off-the-grill flavor by grilling pre-cooked barbecue. Tony Roma's ribs, chicken, and pulled pork are all easy to prepare in about 20 minutes, and if you cook them on the grill, they won't even dirty a dish.
Foil is your friend. What can you grill in foil? It's more a question of what can't you grill in foil? Jalapeño poppers, fruit wrapped up with butter and cinnamon, and vegetables such as squash, carrots, zucchini, tomatoes, and mushrooms. In fact, you can set some frozen vegetables out to thaw, then fold them into a foil packet and throw them on the grill to cook! What could be easier than that?
Two types of heat make your grill more versatile. The secret of grilling entire meals is to use both direct and indirect heat. The direct heat, of course, cooks your meat to perfection. The indirect heat can cook everything from appetizers to side dishes to desserts.
It's easy to enjoy dinner if you don't have to think about the clean up afterward. It's even easier to cook a dish-free meal on the grill when Tony Roma's ribs makes grilling so simple. To find Tony Roma's barbecue at a grocery store near you, visit the store locator on our website. To connect with the online community, like us on Facebook, follow us on Twitter, and check out our mouthwatering Pinterest boards.