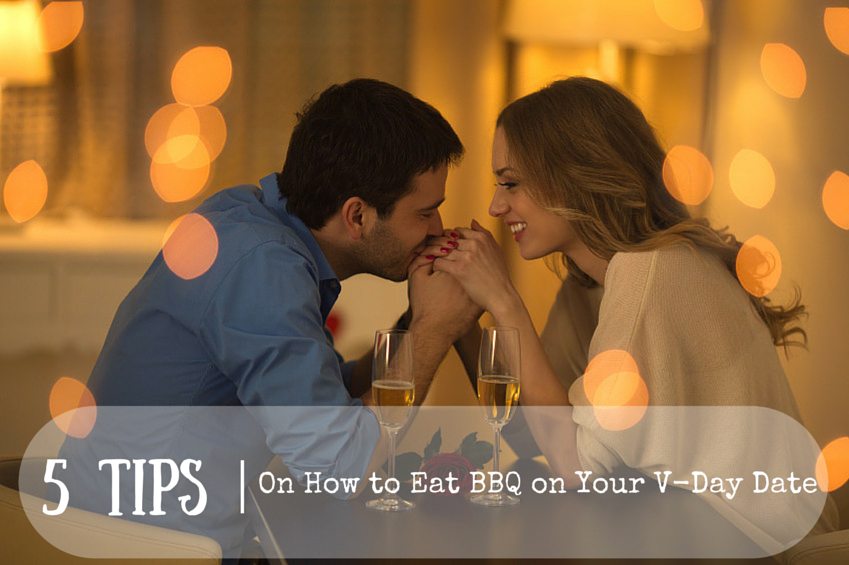 BBQ ribs are so succulent and delicious; they almost seem like the perfect food- except, of course, if you're considering them for a Valentine's date. Picture this: you're cozily tucked away at a corner table in your favorite restaurant, enjoying their delectable BBQ ribs, gazing into the eyes of your beloved, when splat! Rib sauce, all over your white shirt. Total disaster. Is there any way to avert this crisis, while still enjoying your favorite BBQ ribs? We think we can help.
For starters, don't wear your white shirt. Honestly, this is a no-brainer. No white shirt, no unsightly stain! For best results, wear a patterned shirt, or at least one the same shade as your favorite barbecue sauce.
Have your wet nap at the ready. Most restaurants that serve barbecue also provide handy moist towelettes to assist with the cleanup. Are you making the most of this opportunity for quick rescue from disastrous BBQ splotching? Have that bad boy open and available, close at hand the minute barbecue sauce goes somewhere it shouldn't.
Of course, you can always ask for your sauce on the side. This allows for dips into the sauce in perfect proportion to your mouth, preventing unseemly spills. On the other hand, are you willing to sacrifice the pre-sauced ribs? Some people are not, so it's ok if that's not an option for you.
Maybe your rib hold needs perfecting. Do you have a good grip on the bones at either end of the rib? Getting a handle on your ribs means less chance of dropping them onto your clothes, so it might be a good idea to practice rib holding ahead of time.
Could it be that you're rushing the rib experience? Slow down! Like any good thing, ribs deserve to be savored, so take small bites, and enjoy the experience. If you're not speed eating, you may be able to keep your sauce spillage under control.
Of course, there's one great way to enjoy the taste of BBQ ribs without embarrassing yourself in public: stay home! With Tony Roma's precooked ribs, it's easy to enjoy the great taste of ribs in the privacy of your own home, because they're quickly prepared in the oven or on the grill and ready in about twenty minutes. What's more romantic than an evening in with the delicious taste of Tony Roma's ribs? For more information on where to find them, visit the store locator on our website.To connect with the online community and share romantic Valentine's ideas, rib recipes and more, like us on Facebook and follow us on Twitter.