---
Add a Latin Flavor to Your BBQ Ribs this Cinco de Mayo
---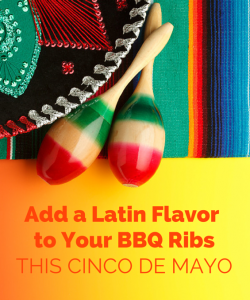 It's almost time for Cinco de Mayo: will your menu for the fiesta on May 5th include BBQ ribs? They may sound like an unlikely choice for this particular holiday, but trust us, BBQ ribs are welcome any time and any place. With this list of Latin inspired options, your Cinco de Mayo may be forever changed!
What constitutes a Latin BBQ sauce? You can give your BBQ ribs a fiesta flair by using flavors like ancho Chile, citrus, or habanero. Try these homemade sauces to give your ribs an easy Mexican makeover! Use fresh ingredients for the best barbecue sauces, and consider the recipes a jumping off point, to which you add your own signature style.
Your side dishes can pop with Latin flavor! Give an old favorite of the backyard barbecue a twist with this delicious recipe for Roasted Corn Potato Salad. Looking for something sophisticated? Try this Serrano Wrapped Asparagus. Black Bean and Corn Salad is always a big hit, as is this Spicy Red Pepper Pasta Salad. Want something purely, authentically Latin? You can't go wrong with Tostones!
BBQ ribs can be Cinco de Mayo worthy too. Make spicy Latin BBQ Ribs, using a rub that features coriander, cumin, chili powder, cinnamon, and brown sugar for an exotic and crowd pleasing flavor. These delicious ribs take about 90 minutes to prepare on the grill or up to two hours in the oven.
Have time to make one of these fun sides, but not the BBQ ribs? Tony Roma's has you covered! Our succulent precooked barbecue is easy to prepare, and it can be on your table in about 20 minutes. To find Tony Roma's at a grocery store near you, visit the store locator on our website. To connect with the online community, like us on Facebook, follow us on Twitter, and check out our mouthwatering Pinterest boards.
---