---
Best BBQ Essentials to Keep in the House for a Rib Emergency
---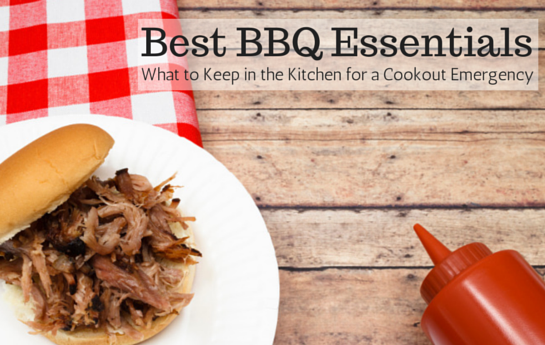 You probably have an idea of what you consider to be the best BBQ you can possibly serve. Maybe you have your own family recipe, handed down over generations, or maybe you've come up with your own sauce, involving secret ingredients and painstaking preparation. But, what do you do in a BBQ emergency? How do you cope?
We've all been in a BBQ emergency. Maybe you promised your guests the best BBQ they've ever tasted, only to discover at the last minute that you're out of gas for the grill. Or maybe your grill isn't functioning at all! Maybe your guests were so inspired by your invitation that they brought more guests, and now you don't have enough ribs to feed the crowd! Even worse, maybe you already put in the time and effort, made your best BBQ sauce, marinated and basted your meat to perfection … and then burned it. What do you do, when all seems lost, and it looks like your BBQ party is going down in flames – perhaps even literally?
Don't panic. As long as you've stocked your kitchen ahead of time with the essentials in rib emergency supplies, you should be able to survive this crisis and save your party. Do you have what it takes?
Snacks. Got pretzels? Chips? Dip? Keep hummus and guacamole on hand, and you'll be able to stall for time during your barbecue emergency. Once these munchies are wearing thin though, you'd better be ready to pull out the big guns and provide some heartier fare.
Baked beans. Oh, we know, you have your grandmother's recipe, and it involves soaking and seasoning and baking, and so on, but we don't want to hear it. Can it – literally. A few spare cans of baked beans in your cabinet can mean the difference between guest starvation and happy partygoers.
Coleslaw kits. Why would any kitchen be without coleslaw when it comes in handy bags in the produce department? Distract your guests with baked beans and coleslaw while you make an alternate BBQ plan.
Beer. If distraction is your game, beer is your ace in the hole. Who cares whether they're eating yet when there's beer? Provide an unusual brew, and you may have a conversation starter that will keep your guests occupied for quite some time.
Disposable dinnerware. This goes for barbecue in non-emergency situations, too, but we figured we should at least mention it. No matter what your barbecue circumstances, you'll want to provide the right paper, plastic and napkins to keep you from being stuck doing cleanup all night.
Tony Roma's Precooked Ribs. The true solution to any barbecue disaster is to have some of the best BBQ around easily accessible, right there in your refrigerator. Whether you're in the mood for ribs, chicken or pulled pork, you can easily prepare it in about twenty minutes, and you don't even need a grill!
At Tony Roma's we're here for you, no matter what kind of BBQ emergency you're facing. We'll get through this together, and we promise, it gets better once the crisis has passed. To prevent future BBQ emergencies, keep up to date on barbecue tips, tricks and news by joining our online community on Facebook and following us on Twitter. When you're ready to find Tony Roma's near you, visit the store locator on our website.
---