---
Summer is Coming | Brush Up on Your Barbecue 'Ribiquette'
---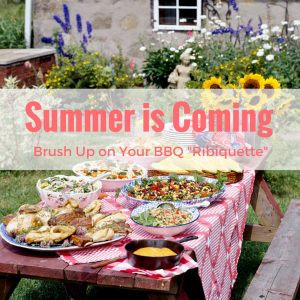 Are you ready for the barbecue season? It's finally spring, which means summer isn't far away! Can't you just feel the warm sun on your face and taste the succulent barbecue? It's time to get ready for grilling, and that means cleaning your equipment, stocking your kitchen and remembering your manners.
Manners? At a barbecue? Oh yes. Whether you're the host or the guest, there are a few key etiquette tips to keep in mind at all times.
Dress appropriately. BBQ can get a little messy. Keep that in mind when you dress to avoid some sauce-stained embarrassment.
Be kind to your neighbors. You are not technically required to invite the neighbors to your barbecue, but you might want to let the golden rule come into play. Would you want to smell all that goodness wafting over the fence yet be excluded from the festivities? We thought not. Invite the neighbors.
If you're the host, consider the vegetarians. Sure, it's a few extra steps to come up with meatless options, but how hard is it really? Toss some vegetables on the grill, pick up some veggie burgers at the store, and throw your vegetarian friends a bone. (But not literally, because they don't eat meat.)
If you're the guest, keep your hands to yourself. You may not think the host is as good at grilling as you are, but unless the meat is literally in flames, you should never touch another man's barbecue.
Use the right tools, and you'll look like a pro! Is your grill clean? Do you have the proper utensils? Don't embarrass yourself! Invest the time, energy and money necessary to make your barbecue a success, and you won't regret it.
Are you ready for barbecue already? Tony Roma's has you covered, even before you break out your grill, with pre-cooked barbecue that can be on your table in 20 minutes. To find Tony Roma's at a grocery store near you, visit the store locator on our website. To connect with the online community, like us on Facebook, follow us on Twitter, and check out our mouthwatering Pinterest boards.
---