---
A Checklist for Tailgating with Tony Roma's Pre-Cooked Ribs
---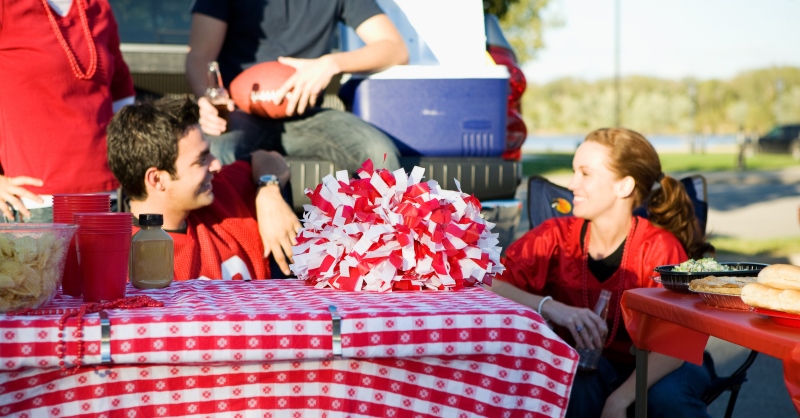 Pre-cooked ribs might not be the first item on your tailgating checklist, but maybe they should be! Everyone knows a good tailgate experience involves good friends, good food and a good game for which to gear up, but why should it involve more work for those hosting? With mouthwatering pre-cooked ribs from Tony Roma's, game day is a breeze, whether you're out at the stadium or having a barbecue at home. So, what else do you need to ensure a successful tailgating party?
Obviously, you'll want the right dinnerware. At home, you've no doubt got this covered, but if you're hosting out in a parking lot, make sure you've got everything you and your friends will need, including team-themed dinnerware! You'll want to show your spirit all the way down to your plates and napkins. Remember, too, to bring plastic containers and aluminum foil, in which to pack the leftovers.
You'll also need a well-packed cooler. Chill everything before you put it in the cooler, and pack your cooler full, so no warm air can invade it. Put cans and bottles on the bottom, food packed in airtight containers next, then a layer of ice, with ice filling in any crevices, topped by any bagged foods.
The right tools are important. Bringing a grill? Make sure you have fuel, whether propane or charcoal, matches or a lighter, grilling utensils, and a metal bucket in which to empty hot coals when you're done. Never forget a corkscrew and a bottle opener. Some clever, die-hard tailgaters even pack a toolbox specifically for this type of event, stocked with utensils, condiments, and even niceties like first aid items and moist towelettes. Don't empty out your real tool box to bring essentials to the barbecue, though - make sure you have everything you need for your car as well, including jumper cables.
Bring the right food. Make sure to bring appetizers, a main course, side dishes, dessert and plenty of drinks. Prepare your food ahead of time, as much as possible. For instance, if you're grilling, pat out your burgers before you go, and have your condiments and toppings ready to serve, neatly packed in plastic containers. Of course, if you bring pre-cooked ribs you can take some of the labor and guess work out of it. Who doesn't love pre-cooked ribs from Tony Roma's?
Prepare for comfort. This may mean bringing chairs or a canopy to put over your little crowd, or a blanket to spread on the grass. Know your location, to know exactly what you'll need to ensure that you and your guests have the best time possible!
Tailgating is all about pleasing a crowd of friends, and what could be more crowd-pleasing than Tony Roma's pre-cooked ribs? Pre-cooked and simple to prepare, they're perfect for any crowd, whether you're out with friends or having a barbecue at home. Find out where to buy them by visiting the website, and connect with other rib enthusiasts on Twitter, Facebook, and Pinterest for more mouthwatering recipes.
---