---
How to Throw a Super Bold Bowl Party, Even When Your Local Team is Out
---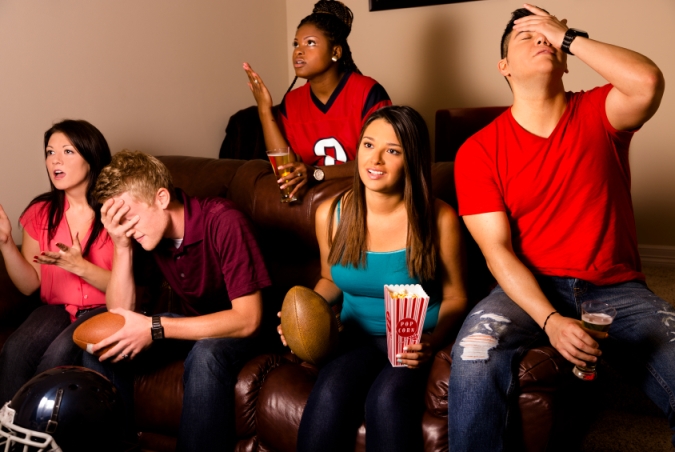 Want to throw a super bold bowl party, but your favorite team didn't make the cut? Don't despair! With the right mix of food and fun, you don't have to give up on your super bold plans! Here are some suggestions to make your party one to remember.
Score with your décor! The excuse for the party is a football game, but you can choose a stand-alone theme to make your party really pop. How about a Mexican fiesta, with jalapeno dip and sombreros among your decorations? Or maybe Mardi Gras is more your theme, with Cajun crab dip and beads on the tables for a festive look. Decorate with balloons, have hats and noisemakers on hand, and offer confetti to throw during exciting plays for a fun touch.
Delight in the details. Make sure you have enough of everything: not just food, drinks and ice, but also napkins and tableware. Have cleaning supplies on hand, in case of spills during an exciting game, and provide coasters to keep your tabletops undamaged. Have some fun with your planning, too! Consider party favors, like team lollipops or t-shirts, or personalized water bottles. You might even ask for predictions on the game's outcome, handing out prizes to all who correctly guessed the winning team.
Prep ahead of time so you can enjoy the day. Super bold doesn't mean super difficult; you can create a menu that allows you to spend your party time entertaining instead of slaving over the food. Many fun party foods are easily prepared in advance, and can be set out for your guests to serve themselves. Tony Roma's precooked BBQ is the perfect choice for game day, because it allows you to serve something substantial that doesn't take a big chunk of your time. Choose the right Rex Goliath wines to go with your barbecue, serve up some tasty dips and Kettle Chips, and you've got a buffet perfect for munching while you're watching the game.
Make the party about more than the game. Sure, most of your guests will want to watch the game and its crazy commercials, but what about the ones who don't? Designate a no-talking zone where people are watching the game, but provide another space for those who want to converse. It's a good idea to set up a room with activities for any kids in attendance, and you might even have a room with a movie for those who aren't football enthusiasts!
The super bold flavor of Tony Roma's is enough to make every party a winner, especially when it's paired with Rex Goliath Wines and Kettle Chips! Connect with other Tony Roma's Precooked BBQ enthusiasts by liking us on Facebook and following us on Twitter. When you're ready to find Tony Roma's near you, visit the store locator on our website.
---