---
Tony Roma's Guide to Cleaning Your Grill
---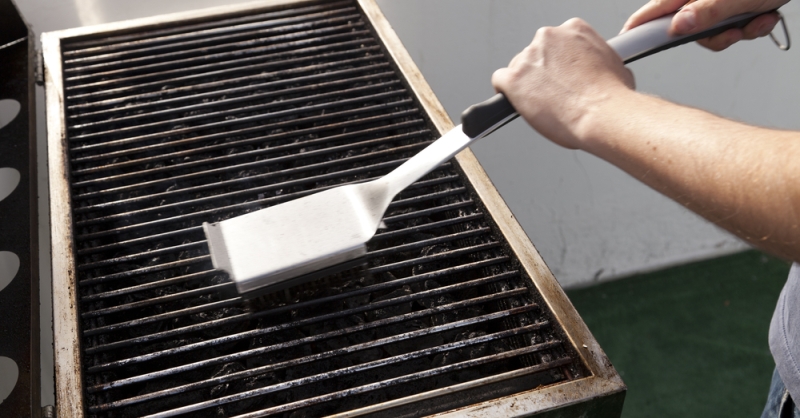 We at Tony Roma's are extremely enthusiastic about grilling past summer, well into the fall. There will come a time, however, when it's time to put the grill away for the year, and you'll want to give it a good cleaning first. While it's not too hot, but not yet very cold, it's the perfect time to clean your grill, especially if you intend to pull it back out for the holidays.
Of course, we hope you've been cleaning your grill as you go along. Brushing the grill with a wire brush after each use helps prevent bacterial growth and keeps the grill in good condition. Clean out grease traps and burners, and wipe grills down with vegetable oil to keep them rust free, and ensure they'll last a long time. A charcoal grill should be emptied after each use, and you should clean your gas grill's venturi tubes. The tubes that mix air and gas and feed to the burners, venturi tubes are susceptible to blockage from bugs and dirt, which can become a fire hazard. You can keep this from becoming a problem, though, by taking off the entire burner/tube assembly, cleaning with soapy water, taking care to attend to the holes with a wire brush, paper clip or toothpick and replacing when dry. Keep your grill covered when you're not using it, and clean it thoroughly several times a year.
When thoroughly cleaning a gas grill, remember to disconnect the propane tank before you start. Soak the grates in soapy water and scrub, using a steel wool pad if they're especially dirty. Brush off any rust from the chassis with a wire brush or steel wool pad. Finish up by inspecting and retightening fasteners and hinges.
For a charcoal grill, first wipe the exterior with soapy water, or glass cleaner if there's excess residue. Remove moisture and grease from the inside of your grill lid and bowl, and clean your cooking grate by brushing them with a stainless steel grill brush, then washing with soapy water.
If you have a "Big Green Egg," you can clean it by turning up the heat. Cranking it up to about 600° will burn most of the grease and smoke residue out of the inside, and you can scrape the rest of it off with a balled up piece of aluminum foil. Wipe down the outside, and you're done! Remember: never use water on the inside of your Egg.
The great news about Tony Roma's pre-cooked ribs is that they allow you to continue to barbecue at home, even after you've packed up your grill for the season. All you need is an oven, and you can bring that delectable Tony Roma's flavor to any meal or occasion, all year long. Learn more about Tony Roma's and connect with other rib enthusiasts on Twitter, Facebook and Pinterest, where you'll find more helpful tips, along with mouthwatering recipes.
---