---
Grilling Season is Here | What you need for the Ultimate Backyard Barbecue
---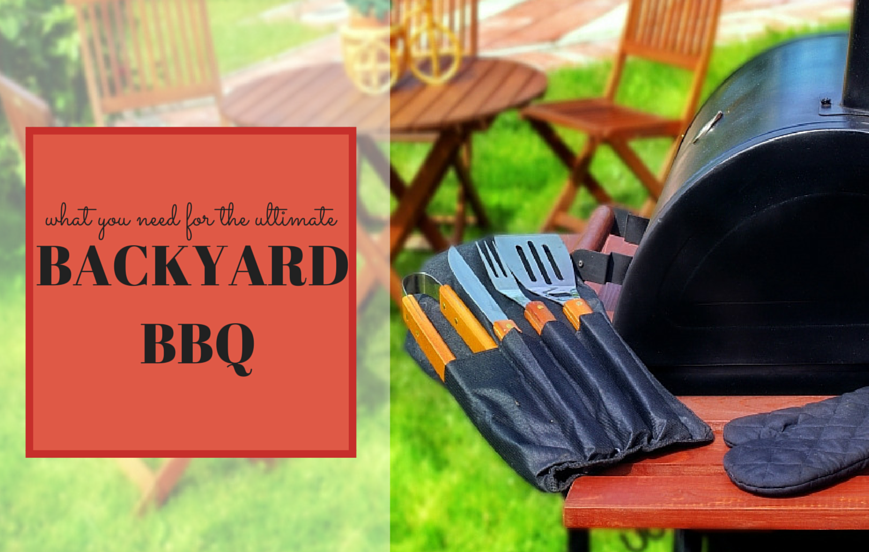 Does the warmer weather turn your thoughts to barbecue? There are few things as pleasant as the thought of that smoky aroma in the air, friends and family gathered around, and a gentle breeze stirring the heat as you sip a cool beverage and eagerly await the feast. The real question is this: are you prepared? Here we offer some tips to get you ready to host the ultimate backyard barbecue.
Set a pretty table. Dining outside doesn't mean roughing it! Consider using real dishes, whether an all-white catering set or colorful Fiesta Ware, and you'll feel like you're having a grown up party. Don't forget fresh flowers and table linens in colors to match your theme.
A bar cart can keep things you need close at hand. Use it for barbecue accessories, to transport snacks or desserts, or for its intended purpose as a beverage station. You can buy bar carts new or repurpose a find from a thrift store by painting it with bright colors.
Use some fun accessories. On your bar cart, a retro 60's ice bucket can be a great conversation piece; fill it with ice cubes shaped like stars, boats, or babushkas, and your guests will really have something to talk about. On your table, charming serving pieces can really tie your theme together.
Lighting can offer self-expression! Especially if your barbecue will last until after the sun goes down, choose some outdoor lighting that suits your style, whether elegant or whimsical. A quick Internet search will find you whatever you're looking for, whether modern looking lanterns, retro string lights or a garden lamp shaped like a mushroom.
Don't forget the games! Give guests something to do other than eat and drink by making garden games available. Bocce is a perennial favorite, and you can buy sets in many different designs, from silver to polka dotted and everything in between.
Make a little music. You can make a mix CD ahead of time, program your iPod, or ask guests to bring music to share. Better yet, if you have old instruments, set them around the lounging area and invite guests to play.
Think of unpleasant things too, like trash and bugs. Some things that are inevitable at a summer barbecue are not on the guest list. Buy attractive disposable trashcans and recycle bins to make it easy for your guests to clean up after themselves. Strategically place citronella torches to prevent a mosquito invasion, and provide repellant wipes for your guests, just in case.
What about those summer nights when you don't feel like grilling out? Tony Roma's has you covered with precooked barbecue just as succulent as if it were fresh off the grill. To find Tony Roma's at a grocery store near you, visit the store locator on our website. To connect with the online community, like us on Facebook, follow us on Twitter, and check out our mouthwatering Pinterest boards.
---