---
Summer Travels | Best BBQ Joints in the U.S.
---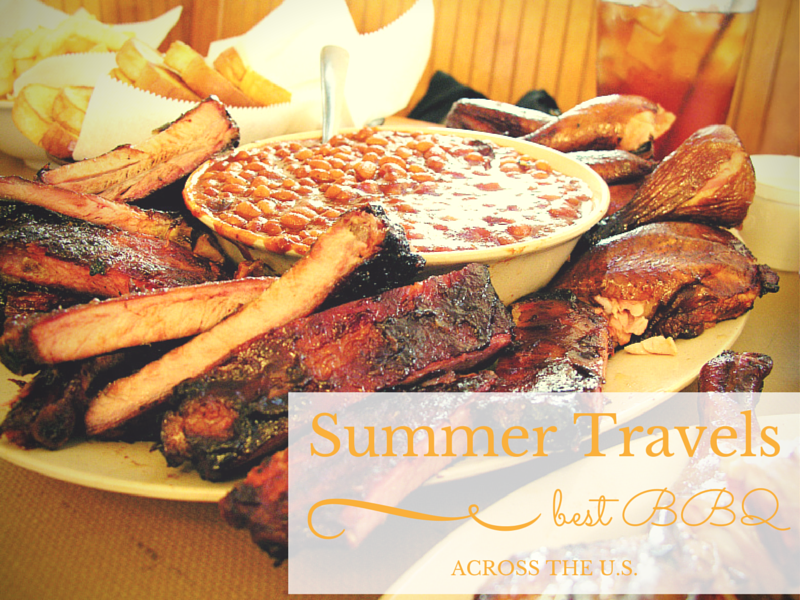 Where did you have the best BBQ you've ever tasted? Was it a local BBQ joint or were you traveling? If you're hitting the road this summer, we've got just what you need - a list of some of the best BBQ places you'll find across the United States.
If you're headed for the beach, you might want to pop in to Bucks Smokehouse in Destin, Florida. In fact, three of the top ten best BBQ restaurants chosen by Trip Advisor are located in Florida! You can hit Reuben's Smokehouse in Fort Meyers or Captain's Barbecue in Palm Coast, but if you swing by Bucks, you can choose from classics such as ribs or pulled pork or you can opt for smoked mullet instead.
We have two Georgia barbecue spots to recommend as well. Atlanta's Fox Brothers BBQ was picked by Gayot as a top contender because of its succulent, moderately spicy ribs cooked over wood. Further north, Joe's Barbecue, in Blue Ridge, has been ranked as the nation's top barbecue spot by Trip Advisor.
Just about everyone agrees that Franklin BBQ in Austin, Texas, is some of the best BBQ around. Not only did this restaurant, where the brisket is slow-cooked for a full 18 hours at a very low temperature, make both Trip Advisor's and Gayot's top 10 list for 2015, but the chef, Aaron Franklin, was recently named best chef in the Southwest by the James Foundation.
Are you more likely to be on the West Coast? You can find great barbecue out there, too. Gayot recommends Charcoal BBQ for Kansas City-style in Los Angeles and 4505 Burgers and Barbecue in San Francisco for locally sourced, pastured raised meat.
In our nation's capital, Hill Country Barbecue is considered one of the best. Gayot praises the restaurant not only for its ribs, but also for its selection of sides and delicious banana pudding.
Of course, you'd expect a couple from this list to be in St. Louis. Trip Advisor's list includes Bogarts Smokehouse and Pappy's Smokehouse.
And what's a best BBQ list without a shout out to Kansas City and Memphis? Gayot suggests Charlie Vergos' Barbecue in Memphis, and Trip Advisor says Joe's Kansas City Barbecue is worth the trip.
Finding the best BBQ wherever you're traveling is a great way to experience local flavor on vacation. If you can't make it to a great barbecue joint, Tony Roma's brings the best BBQ taste right to you with ribs, pulled pork and pulled chicken you can have on the table in about 20 minutes. To find Tony Roma's at a grocery store near you, visit the store locator on our website. To connect with our online community, like us on Facebook, follow us on Twitter and check out our mouthwatering Pinterest boards.
---